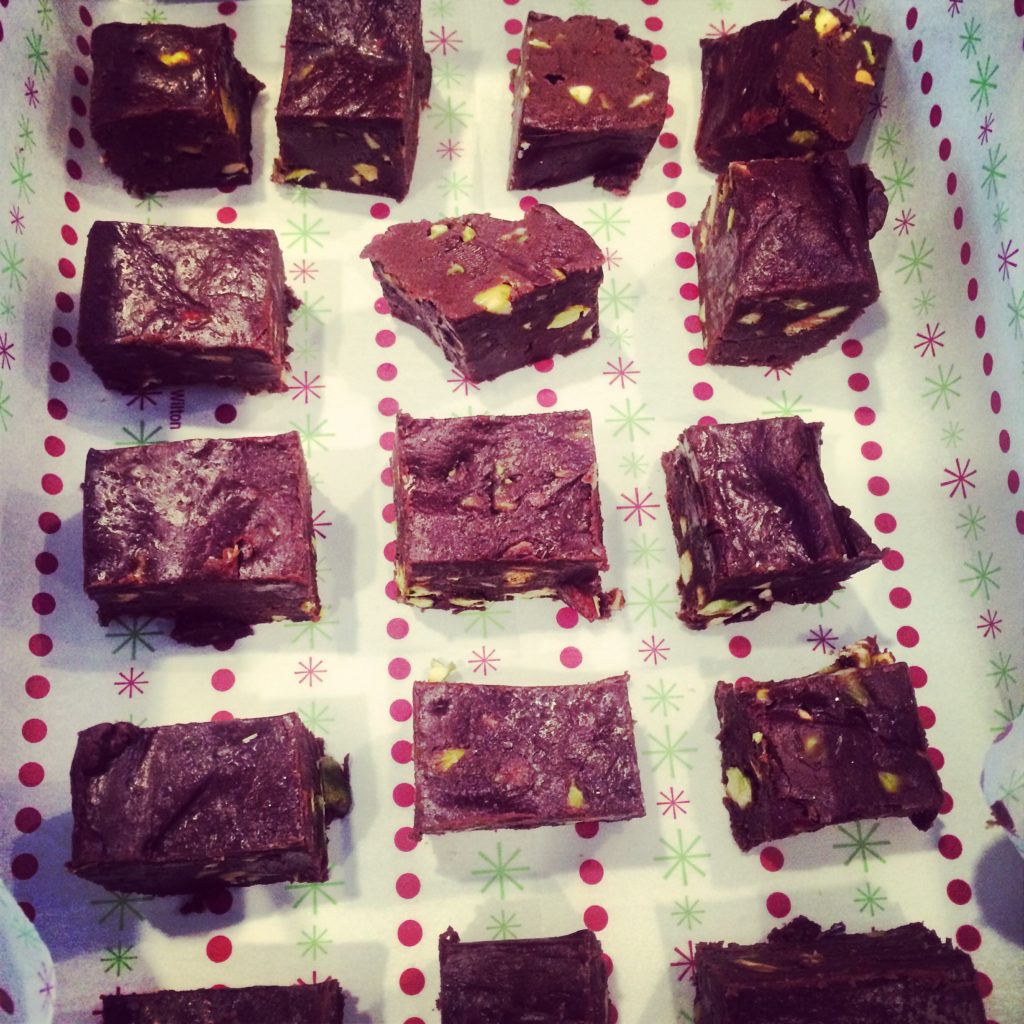 'T is the season for all the sweets treats and savoury dishes we're about to indulge in this month. With all the holiday parties and festivities underway, I've been looking for easy recipes I can whip up and take with me to parties and events.
Baking sugar cookies is my usual go to for the holidays, but this year I wanted to try something new. Pinterest is my fave online repertoire for collecting recipes. Lately, I've been pinning everything, but I've been so lazy to actually get my but in gear and try out something new.
Then last week, my sweet co-worker brought us this chocolate nutella fudge to our staff meeting, and let me tell you- it was divine! Let's just say we basically ate our way through our 9 am meeting and we finished all the fudge.
I decided, I needed to try out this recipe myself as long as it's easy and fool proof. Carolle happily shared her recipe with me and I took a chance and tried it last weekend. It turned out awesome! I plan to make it again this week to share with friends at our next holiday potluck.
I am literally obsessed with this fudge. It's easy to make and it's perfect for any holiday party or potluck. The fudge is rich and creamy with a nutty flavour from the nutella. The sea salt just gives it that extra kick. If you're looking for a new holiday treat to make this year, try out this recipe, I promise you won't be disappointed!
INGREDIENTS
1 can 10 oz sweetened condensed milk
8 oz of unsweetened chocolate chips
3 tbsp butter softened
1 tsp vanilla extract
1 cup nutella
3/4 cup pistachios whole
1/2 tsp salt
1 tsp sea salt
INSTRUCTIONS
Prepare an 8 x 8 inch baking dish by spraying it with cooking spray and line it with parchment paper, leaving a 2 inch overlap on the sides, so you can easily pull out the fudge.
In a stainless steel bowl, add the condensed milk, chocolate chips, butter, vanilla, nutella and the 1/2 tsp salt.
Fill a pot with water half way and bring it to a boil. Place the stainless steel bowl over the pot and stir continuously in the bowl until the chocolate is melted, it took me about 5 minutes.
Now you need to move quickly because the chocolate will harden. Add the pistachios to the bowl and mix them in quickly. Pour the chocolate over the parchment paper and level it out so that the top is nice and even. Sprinkle with the sea salt.
Refrigerate the fudge until it's set, it will set fairly quickly, about 2 hours.
Cut the fudge in the preferred size, with a knife that has been run under hot water and dried off.
Happy Holidays!