You guys. BiG Z asks for waffles everyday….it's kind of ridiculous if you ask me. I find myself making these waffles every weekend and freezing fifty at a time. BiG Z and the hubs have been feasting on waffles everyday this week!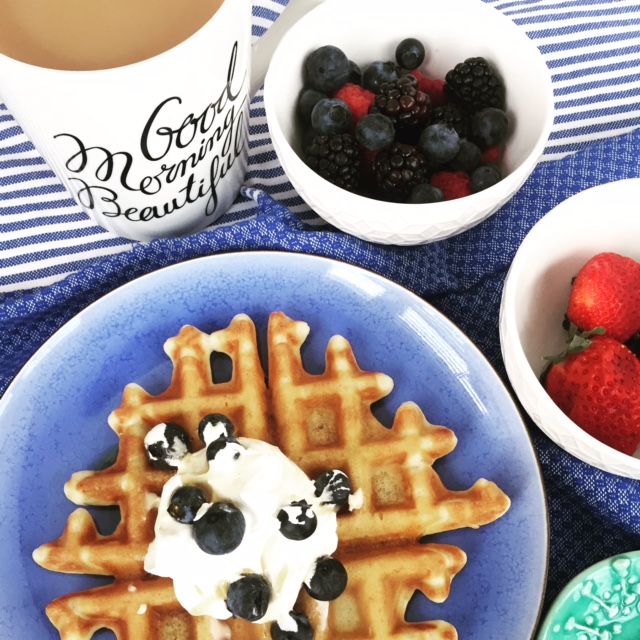 It's become a breakfast staple in our home, and so I've been trying to change them up a bit. I've started adding apple sauce in lieu of oil in my batter. Trying out a healthier version and it tastes AWESOME! They're pretty quick and easy to make. Since I make a whole bunch a time, it's an easy snack to have at any time.
We always have a tub of cool whip and berries on hand to make them extra special. How good does this look? C'mon, you know you what waffles right NOW! If you want the recipe keeping reading!
Weekend Waffles (adapted from All Recipes)
Here's a list of ingredients you need to make these Weekend Waffles:
2 eggs
2 cups of all-purpose flour
1 3/4 cups  milk
1/2 cup vegetable oil (I like to substitute with apple sauce)
1 tablespoon white sugar (I reduce it to 1/2 tablespoon)
4 teaspoons baking powder
1/4 teaspoon salt
1/2 teaspoon vanilla extract
Super Easy Directions:
Preheat waffle iron. Beat eggs in large bowl with hand beater until fluffy. Beat in flour, milk, vegetable oil, sugar, baking powder, salt and vanilla, just until smooth.

Spray preheated waffle iron with non-stick cooking spray. Pour mix onto hot waffle iron. Cook until golden brown. Serve hot.
Hope you enjoy my weekend waffles!